Preservation of natural teeth in Batumi
In the My Dent clinic, the system of natural teeth preservation is masterfully established.

We can save your own teeth even in the most difficult cases
.
The example of such work is the young woman (22 years), who was totally against implants and badly wanted to save her own teeths. Under the metal-ceramic bridge, the teeths were heavily damaged, some of them with deep subgingival destruction and uneven gingival contour. The case was really difficult and required a high level of professionalism. But what can be better than natural teeths?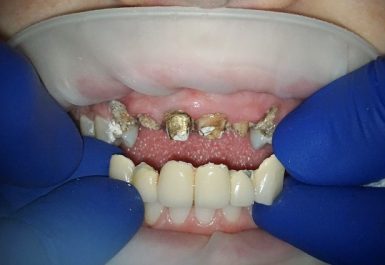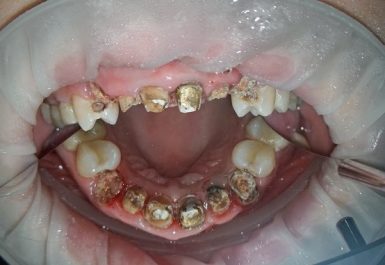 Many efforts and a considerable time was needed for achieving such a result. On the photos, we present not just the built-up teeth with pins, which may easily break a root of a tooth, or fall out along with a crown, but the natural teeth, which were pulled from a bone by using a surgical method.
What you see on a photo, are the patient's own teeth, which allow reliably holding a crown and correctly distributing a load on a tooth.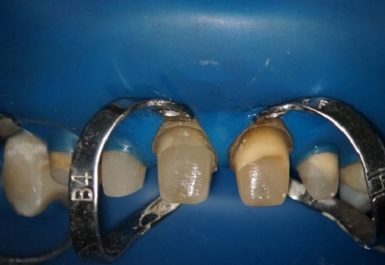 This work is very durable and reliable, because a load during chewing will be distributed on the native tissues of a tooth, and not on a filling material, thus determining a long-lasting performance of this work.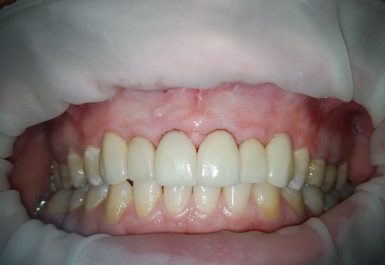 On the photo, the work is seen immediately after the installation of crowns. Please, note a harmony of white and rose colors; gingival contours acquired a planned festoon-like appearance.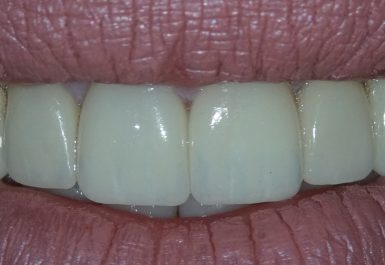 Batumi, 43 Gorgasali St., Tel.: (+995) 422 27-64-76 Моб. (+995) 514 11 70 70