Prosthesis of teeth in Batumi:
In a modern society, majority of people really care about their appearance. One of the main needs of human being is to have an attractive appearance, especially smile. Our smile is the important factor, which defines how we look.
The specialists of the My Dent clinic offer a broad range of services in prosthesis, which will help you to get rid from the cosmetic and functional defects in the oral cavity. By visiting us, you will find a joyfulness of a life and healthy smile!
The "trademark" of prosthesis in the My Dent clinic is the Cerec – a crown installed for just 1 visit to the clinic, with the possibility to grind down your teeth and place a crown under the microscope. This allows to achieve a maximal precision and quality of our work.
The My Dent clinic offers the following types of orthopedic works:
Microprosthesis based on composite and ceramic materials (Z I R C O N, Empress, Cerec) ;
Prosthesis with use of stump inlays (all-cast and demountable — for multi-root teeth);
Metal-ceramic structures — crowns and bridge prostheses;
Non-metal ceramics — bridge prostheses, crowns, veneers, inlays ( Z I R C O N, EMPRESS, Cerec, Emax Press );
Removable clasp prostheses of various modification with clasps and on attachments;
Removable laminar prostheses;
Teeth prosthesis on implants.
During the prosthesis of the front teeth, dentists, first of all, make it aim that artificial teeth would look aesthetically attractive and do not differ from natural teeth.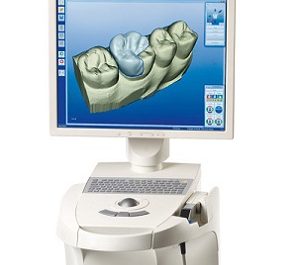 Qualitative dental treatment of teeth under a microscope in Batumi
We would like to proudly announce that the most advanced dental clinic My Dent is opened in Batumi. The equipment of the clinic is a dream of any dentist and patient. For the first time in Georgia, an operating microscope of highest quality – OPMI Pro Ergo, from the most known German optic company Carl Zeiss – is used in the Georgian clinic. This microscope is a part of equipment in the best clinics of Europe and US.
Now we want to inform the residents of Batumi that you should not extract your teeth, when you are told about this by dentists! You have a chance to treat them!
And only we can do this:
We can treat cysts and granulomas (with any complexity) without surgery and incisions.
We can access impassable canals. Including resorcinol teeth.
We re-treat canals of any complexity. Including resorcinol teeth.
We extract instrument debris from the canals of teeth and from a bone.
We seal perforations (artificial hole in the root of a tooth).
We extract deeply destroyed teeth (preparation for a prosthesis).
We process canals by means of laser.
We fill canals using a hot method.
We use bioengineering methods of teeth treatment (regenerative endodontics)
Treatment of a caries.
Treatment of a pulpitis.
Treatment of a periodontitis.
Regeneration of a crown part of a tooth.
During the treatment, we use the most advanced equipment, instruments and materials of world class. We do not use arsenic, resorcinol and other harmful materials.
You can see many complex works, performed in the My Dent clinic, in the photo gallery section.

Hygiene and whitening of teeth in Batumi
Teeth of many people begin to lose their colour with the age, and an enamel becomes thin and sensible. Teeth become covered by dental plaque, and dental calculus is formed. It can cause a destruction of teeth and a lesion of gums.

It is especially important to visit a professional hygienist, if you undergo an orthodontic treatment, because in this case an unaided hygiene activities are difficult to perform. A professional hygienic cleaning of teeth should be done once in three month for all patients with dental braces: for kids, as well as for adults.
The case is that there is a shortage of nutritive minerals in a human body, which cannot be compensated even by the adequate nutrition or by the medicamentous treatment (intake of mineral complexes). And only by means of special procedure of remotherapy it is possible to replenish the lost minerals and stop the process of teeth destruction.
Removal of soft dental plaque by means of Air Flow system
Ultrasonic removal of dental calculus
Polish of teeth surface
Professional hygiene of implants and crowns
Professional orthodontic hygiene
Complex professional hygiene of an oral cavity
Laser whitening of teeth
Remotherapy of teeth
Medical conditions for applying an ultrasonic cleaning of teeth:
Dental calculus;
Subgingival calculus;
Bad breath (halitosis);
Swelling;
Presence of crowns and implants in an oral cavity;
Dental plaque caused by tea and coffee;
Gingival hemorrhage.
Medical conditions for applying Air-Flow:
Presence of dental calculus;
Darkening of an enamel;
Necessity of cleaning of braces or implant heads;
Necessity of cleaning of non-metal ceramic structures;
Necessity of whitening of an enamel during the renovation;
Prophylaxis of periodontosis;
Before a fluoridating therapy.

The course of the procedure of the complex professional hygiene of an oral cavity:

If there is much of dental plaque or calculus on the teeth of a patient, they are at first cleaned by means of ultrasonic scaler. Japanese scaler NSC is used in the My Dent clinic, and this device is one of the most sparing. A patient does not feel pain, and, what is important, a tooth enamel does not crack and leave bare tooth necks, which causes a sensibility.
Then follows an Air Flow cleaning. Mechanical cleaning is considered inefficient, and was replaced by the Air Flow technique, which does not traumatize gums and damage dental enamel. The name of this method means that a dentist uses a machine that cleans and polishes the teeth with a mix of water, compressed air and fine powder particles. An abrasive powder is based on a baking soda, which cannot inflict harm on the teeth because of small sizes of its crystals.
At the same time, it is possible to control a degree of impact on the teeth. The whole procedure lasts for half an hour. After the cleaning, a special fluorine-containing gel is applied on the teeth, which mineralizes them and completely regenerates a protective layer of an enamel, and further protects teeth from the impact of bacteria, thus prolonging the effect of the procedure.
With the help of this method, teeth will have a natural shade, i.e. slightly yellowish or greyish. Thus, it is not a whitening procedure, but a cleaning of teeth to the natural colour. If you want to have a snow- white smile, you should register for a laser whitening procedure, which would lighten them on 5-10 tones. But it is necessary to undergo an advance teeth cleaning, to apply this procedure.
It should be noted that after the procedure, it is prohibited to drink tea, coffee or use colouring products, or smoke, for at least several hours (preferably three), so that a film would regenerate, which covers the teeth and which was destroyed during the cleaning procedure.

Within half an hour after the procedure of dental hygiene, a patient should not eat or drink, and wash one's mouth, and at least within 12 hours after the procedure, it is advisable to not take food or drink, containing dyes.
Such dentist services, as treatment, implantation, prosthesis and whitening of teeth should be accompanied by this procedure.

A professional hygienic cleaning of teeth is a necessary step towards a beautiful and smooth smile!

Qualitative Teeth Implantation in Batumi
Medical condition for implantation of teeth in the My Dent clinic is an absence of one, several or all teeth. An implant is placed in the jawbone of a patient, which is an artificial root of a tooth, made from titanium.

The efficiency teeth Implantation depends on a quality of implant and professional expertise of a dentist. Highly qualified implant specialists with years of experience work in the dental clinic My Dent. Moreover, only implants of high quality from the most well-known and authoritative brands are used in our clinic. We do not use cheap Chinese brands with dubious origin. All this guarantees an excellent result.

We also perform manipulations such as: bone grafting and sinus lift surgery.
Bone grafting
A build-up of the height of atrophied lower jaw can be done by means of bone blocks or synthetic bones. This type of transplantation is intended for regeneration of bone, which was exposed to a significant resorption because of tooth or teeth lost, and consists of following stages:
Through separation of mucoperiosteal graft, an access is created to a dental alveolus (tooth socket) of an extracted tooth;
A bone grafting material is placed in the cleaned and refreshed socket;
For the better healing of the wound and integration of a bone tissue, the socket is tightly closed with stitches.
Sinus lifting
If a floor of a maxillary sinus is located too low (close to an area, where dental implants are to be placed), the volume of bone tissue may not be sufficient for a robust fixation of dental implant. Sinus lifting (osteoplasty or sinus augmentation) is a procedure of regeneration or build-up of the bone tissue volume of an upper jaw. This procedure is especially effective for lateral parts of a jaw.
This procedure is prescribed when the volume of bone tissue of a patient is insufficient in terms of height or width, or natural resorption of bone tissue occurred after the extraction of a tooth.
A build-up of a bone tissue can be performed by means of two main methods: open and closed. The choice of method depends on the volume of a bone tissue up to a floor of a maxillary sinus;
Sinus lift surgery allows to place implant precisely into needed location, ensuring their engraftment, which subsequently facilitates a placement of orthopedic constructions.

Surgical dentistry, extraction of teeth in Batumi in the My Dent clinic.
Surgical operation is performed only in extreme cases, during an urgent necessity. We will fight until the last to save your tooth without a surgical operation! As well as other procedures, a surgery is performed in most cases with use of dental surgical microscope.
Removal of extraneous body from a bone tissue of jaw.
Apical surgery
Microsurgery
Amputation of a one root
Extraction of teeth
Extraction of wisdom tooth
Elongation of deeply destructed teeth (preparation for a prosthesis)
Excision of an operculum
Teeth-saving operations
Laser surgery
You can see the examples of the surgical works in the Gallery section Галерея